Diversity Equals …
The first time that I saw a billboard with the message, "Diversity = White Genocide" I was honestly a bit confused.  After all, what most people call diversity (the inclusion of diverse people), is the opposite of genocide. Groups subjected to genocide historically include: Armenians, Jews, Cambodians, Rwandans, and Bosnians. Yesterday was Holocaust Remembrance Day. This matters because once we forget what happens when we exclude any group of people, we are destined to repeat the horrors of the holocaust and other shameful episodes of human history. "Genocide" is a combination of the Greek word génos ("race, people") and the Latin suffix -cide ("act of killing"). The United Nations Genocide Convention defines genocide as "acts committed with intent to destroy, in whole or in part, a national, ethnic, racial or religious group". Genocide conjures up the most horrific images and acts that humans perpetrate against 'others,' members of groups other than their own idea of their specific sub-set, whether race, religion, or tribe.
I have since learned that there is an entire movement, a growing movement, of people who claim that Anti-Racists are 'Anti-White'.  Yes, that is an oxymoronic concept. In my blog post "What's in a Word," (December, 2013), https://www.inclusionstrategy.com/blog/?p=11 I wrote about the importance of vocabulary, the power of words to harm and to exclude. I will continue to posit that words and how they are used is a critical element of advancing equity and social justice. I must continue to use words to try to persuade those who are threatened by diversity and inclusion that we are really not so bad, those of us who work to bring humanity together, to find our common 'touch points' and share some love. Words are actions and our words can be loud and clear and true.
Truth
I must also continue to use words to state the truth. Racism, anti-Semitism, sexism, and Islamophobia all rely on distortions of the truth. Racists have embraced the false premise that they, based on a concept of what race is, are superior to others, hence the term 'White-Supremacists'. Obviously, there is no single group or sub-set of human beings that is superior to any other sub-set, yet all we need to do is look at a chronological list of genocidal epochs to know that the lie of superiority over, or the fear of, others has resulted in the murder, rape, mutilation, imprisonment, and 'bans on' or exclusion of people for millennia. How do you ban an entire group of people? This is not only a violation of the Civil Rights Act of 1964 and the Charter of the United Nations, it violates several U.S. treaties, most notably the Treaty of Tripoli ratified unanimously in 1797 by the US Senate:
"As the Government of the United States of America is not, in any sense, founded on the Christian religion; as it has in itself no character of enmity against the laws, religion, or tranquility, of Mussulmen (Muslims); and as the said States never entered into any war or act of hostility against any Mahometan (Mohammedan) nation, it is declared by the parties that no pretext arising from religious opinions shall ever produce an interruption of the harmony existing between the two countries." (Art. 11.)
The truth can be distorted, ignored, and hidden. If it is raining, my saying that it is not raining is meaningless, as the apparent and obvious evidence of the falling rain dismisses my statement.  So, if someone or some group states that 'diversity equals white genocide', the absurdity of that statement is blatantly obvious. However, the groups promoting this concept are growing and the current President of the United States has re-tweeted messages by these groups. A search on the Southern Poverty Law Center's (SPLC) website for 'white genocide' brought up 179 results. There have been many billboards since the first one appeared in Harrison, Arkansas in 2014.  These signs are not limited to the American south, but have also been put up in numerous locations from Washington State to Great Britain. People have come to Black Lives Matter rallies with 'white genocide' banners and they continue to appear at various events across the country.
Hate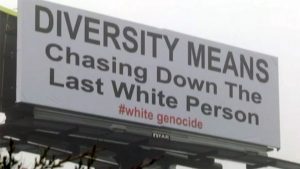 The Hate Index created by City University of New York Graduate School of Journalism's NYCity News Service has documented 318 hate crimes in the United States since January 10, 2017.   https://hateindex.com/  January 10 was only 18 days ago! In other words, we are averaging 17.6 hate crimes per day in the United States. That number includes only crimes that can be confirmed as hate crimes, not those where hatred based on the victims' protected class status (race, religion, sexual orientation, gender, or national origin, etc.), is the suspected motive for the act. The SPLC identifies 892 hate groups on its Hate Map: https://www.splcenter.org/hate-map. These numbers are staggering in comparison to 10 years ago.
The Uniform Crime Reporting program (1930), the Hate Crimes Statistics Act (1990), and the Hate Crimes Prevention Act, 2009 require data be collected on all crimes motivated by hate based on race, age, religion, gender, sexual orientation, ethnicity, and physical and mental disabilities.  The total crimes classified as Hate Crimes in 2009 was 688.3 (including murder, rape, aggravated assault, robbery, and vehicle theft) or 1.88 crimes per day.
Words are actions and words that are hateful incite actions that are dangerous and deadly.  Words matter. It is also vitally important to remember that not only are those who are from certain countries, or members of certain religions being targeted by those who hate, those who appear to be foreign or gay or Muslim or Jewish or different are also being targeted.
Call to Action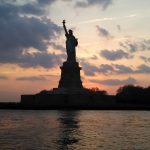 So, why am I sharing this negative information?  My intention is not to add to the already overwhelmingly negative news updates that seem to come at an amazingly rapid rate. Nor is it my intention to provide a political commentary. My arena is inclusion, the inclusion of diverse people in organizations, such as our entire civilization, the quintessential organization of people. When the daily news updates increasingly include decisions, actions, words, and thoughts that exclude, divide, defame, or discriminate against human beings, it is my business.  Literally.
Many people have reached out to me in recent weeks and asked what I plan to do to help people and organizations to cope with so much divisiveness. Yesterday, someone reminded me that I need to be blogging every week and sharing a call to action. So, I will continue to do what it is that I do: to facilitate conversations intended to bring people together across their differences of opinion, to remind people that we all have a responsibility to advance inclusion, that we all have a great deal to lose if we isolate from others, that we all have SO much to gain when we are part of a diverse group of people – people from all parts of the globe, of all faiths, of all races, of all tribes. Diversity does not result in any type of –cide!  Inclusive diversity results in creativity, intellectual growth, innovation, and better health. Lewis Mumford referred to cities as utopias because of their diversity which encourages curiosity! "Urban life in Greece began as an animated conversation and degenerated into a crude agon or physical struggle." (1961)
So, let's talk. Let's talk about fears of the other. Let's talk about anger resulting from conflicting views and opinions.  Let's talk about fear of change. Let's have an animated conversation about our diversity. When we stop talking we resort to our primal or lizard-brained selves. When we stop talking, we lose our sense of connection and belonging to a tribe. We all belong to one tribe – the human tribe. There are hundreds of sub-sets; how can we decide which is better or worse?  All that we can hope to do is learn and grow as a result of our connections. The concept of divide and rule (or conquer) goes back to the Roman invasion of Macedonia. We are not the masters of ourselves if we give in to hate. Hate does not participate or converse or receive or learn – hate blocks information about 'the other'. Enemies are regularly de-humanized to enable their haters to kill, maim and attack them. Hatred cannot coexist with appreciation of another person's beauty, brilliance, talent, or generosity. Hatred can only scream "NO"!
To me, you – my fellow human beings – are beautiful and complicated and brilliant and diverse, and that makes life, not death, possible and wonderful.
Onward!
~ Wendy
P.S. If you are in the greater NYC area, let's meet for a conversation. If not, let's Skype or talk on the telephone, or at least email.
P.P.S. Next week I will share some other positive steps that we can take to protect human rights and each other from hate.