On December 3rd I was part of a wonderful celebration hosted by Jaime Klein, Founder of Inspire Human Resources. http://www.inspirehumanresources.com/
We participated in an (dare I say it), inspiring exercise! We were given blank journals and asked to decorate them and to write a message inside for participants in Dress for Success http://www.dressforsuccess.org/.  The journals will be used to keep career related notes on job interviews, training and other thoughts.  It was such a personal act: coming up with a design and a message that a stranger would have and read and carry with them as they embark on a new, hopeful chapter in their lives.
The force behind this exercise was Susie Schub, Founder and President of Caring Capital. "Caring Capital™ ignites employee engagement by empowering corporate volunteers to make appealing gifts for neighbors in need.  Through our proven philanthropic team-building services, employees connect, create, and make an impact on the community.  We deliver no-fail projects to employees worldwide, so each company may serve the community no matter where employees reside.  Since its launch in 2009, Caring Capital has engaged 25,000 employees who have donated gifts, from furniture and clothing to bedding and toys, to nearly 110,000 children, families, seniors and service members."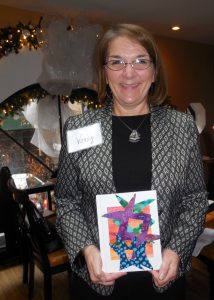 Look what resulted (Beaming Wendy!)
I am grateful to Jaime and Susie for the reminder that something that is easy and fun to do can make a huge difference in another person's life!  Please visit the Caring Capital website and check out some of their amazing projects! http://www.caringcap.com/
If your organization has not embarked on an opportunity to be inspired, isn't this a great time to do so?
Onward!
~ Wendy