Visible Lives: Oral Histories of the Disability Experience
I recently wrote about Visible Lives: Oral Histories of the Disability Experience which is a New York Public Library project.  This project excited me from the moment I learned about it and now I am even more inspired to continue as an interviewer and to invite others to participate in this unique initiative!
I interviewed Elinor Cohen, who has an amazing story and shared it openly and bravely during our two hour conversation (the time sped by!).  In preparing for our taping, Elinor and I learned that we live across the street from each other.  In fact, I am looking at her building while typing these words!  We are also both City College, CUNY graduates.  In addition to learning about one person's experience and perspective on becoming disabled, I have made a new and dear friend.  I am grateful to the New York Public Library for many things, including being my baby-sitter when I was young, and now I add my gratitude for connecting me with Elinor! Please let me know what you think of her story. http://oralhistory.nypl.org/interviews/elinor-cohen-pawejx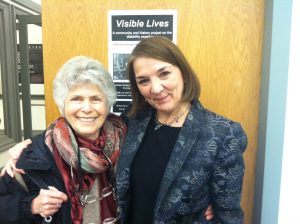 Elinor Cohen and Wendy Amengual Wark

We had a launch celebration on November 22 at the Andrew Heiskell  Braille and Talking Book Library http://www.nypl.org/locations/heiskell and were able to meet other storytellers and interviewers in addition to enjoying some wonderful music: http://www.nypl.org/blog/2014/12/01/launch-visible-lives-oral-history
Deena Greenberg, project interviewer, wrote a wonderful blog about her experience interviewing Daniel Aronoff for the project. You can read it by clicking here. http://www.nypl.org/blog/2014/12/01/interview-daniel-aronoff-visible-lives
More about the project:
Visible Lives: Oral Histories of the Disability Experience is an oral history project that works to both preserve and document a thematic history through personal recollections. This project will collect stories of people who have lived (or currently live) with a visual impairment or a disability. The Library will train community members to conduct these interviews. Interviews will be shared in a preservation archive at The Milstein Division and on the New York Public Library website.  Public programs will also connect neighborhood residents and project participants.
Visible Lives is a project of Andrew Heiskell Braille and Talking Book Library in Manhattan.  A public archive will be kept at this local branch for future generations to listen to and research. 
For more information about this project or to share YOUR story:
Please contact Alexandra Kelly at Outreach Services and Adult Programming, AlexandraKelly@nypl.org or (212) 621-0552.
I am interviewing other storytellers and will share those conversations with you as they are posted. 
If you haven't been inspired lately, isn't this a wonderful time to be?
Onward!
~ Wendy